Posted by Emily Tomlinson (Cutiekins_Creations) on 25th Nov 2019
Hi, I am Emily from Cutiekins_Creations! I was super excited and honoured when Vivi asked me to write this guest blog post. I want to share some of my favourite Pattern Emporium patterns using a few of the different knit fabric bases available from Wicked Fabrics.
I've been a pattern tester for Pattern Emporium for just over a year now. I really enjoy pattern testing and stepping out of my comfort zone to try patterns and new fabric bases. I buy a lot of knit fabric online, and often it is hard to know how each new pattern is going to look in different bases. There are lots of considerations when choosing knit fabric for a stretch pattern.
Does it have enough stretch? What is the drape like? How will this work for this pattern? It is often difficult to know if you haven't been able to touch the fabric before you buy it. So I am hoping this might give you an idea about how different base fabrics work with a few different Pattern Emporium patterns.
The Be You Tee is probably my favourite. It is a versatile, comfortable and an easy going pattern. There are so many possibilities of what you can make.

Melange OEKO-TEX 100 Cotton Elastane Jersey

This tee was made using 1 metre of Wicked Fabrics' Purple Melange Jersey. Melange is a lot softer than I was expecting, it has great stretch and works perfectly for a basic tee. This is a firm favourite for weekend wear especially when I'm chasing around an active toddler!
I loved the melange jersey tee so much that I had to make another one. Solid colours make great wardrobe staples! These are both shirt tail hem with high neck and short sleeves.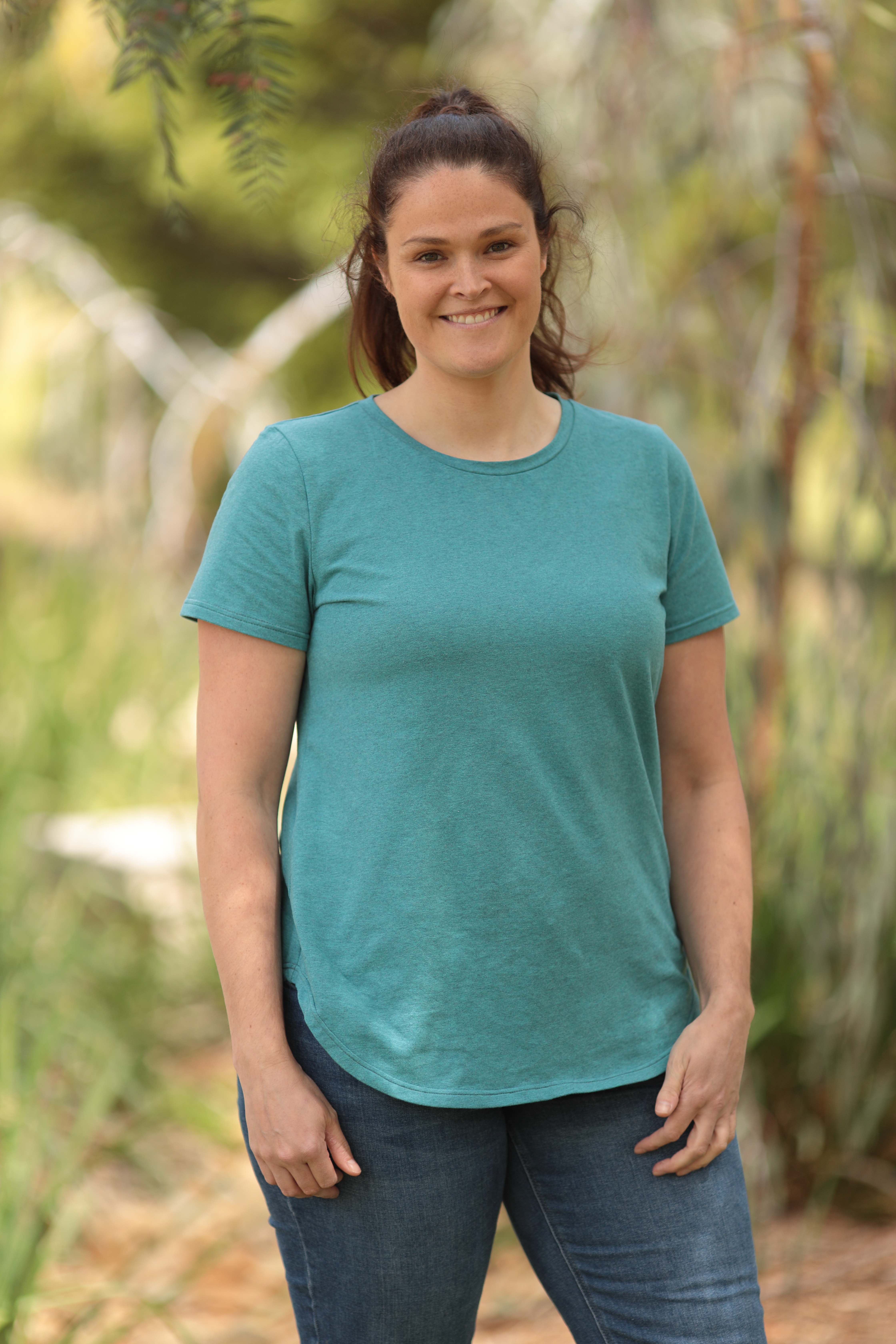 Melange jersey would also work really well for the Endless Summer Tee, Keep It Simple Babe, Hello Gorgeous and Every Me Tank.

OEKO-TEX 100 Modal Elastane French Terry

I've also made a Be You Tee in Modal French Terry (long sleeve - with cuffs, cowl neck and shirt tail hem). I hadn't tried modal before and was eager to give it a go. It's not as structured as Cotton Lycra French Terry (still has the tiny loops on the wrong side), I find it similar to rayon because it has a soft fluid feel and nice drape.
The Modal French Terry would be perfect for the Keep It Simple Babe, Like a Boss, Hello Gorgeous and My Embrace.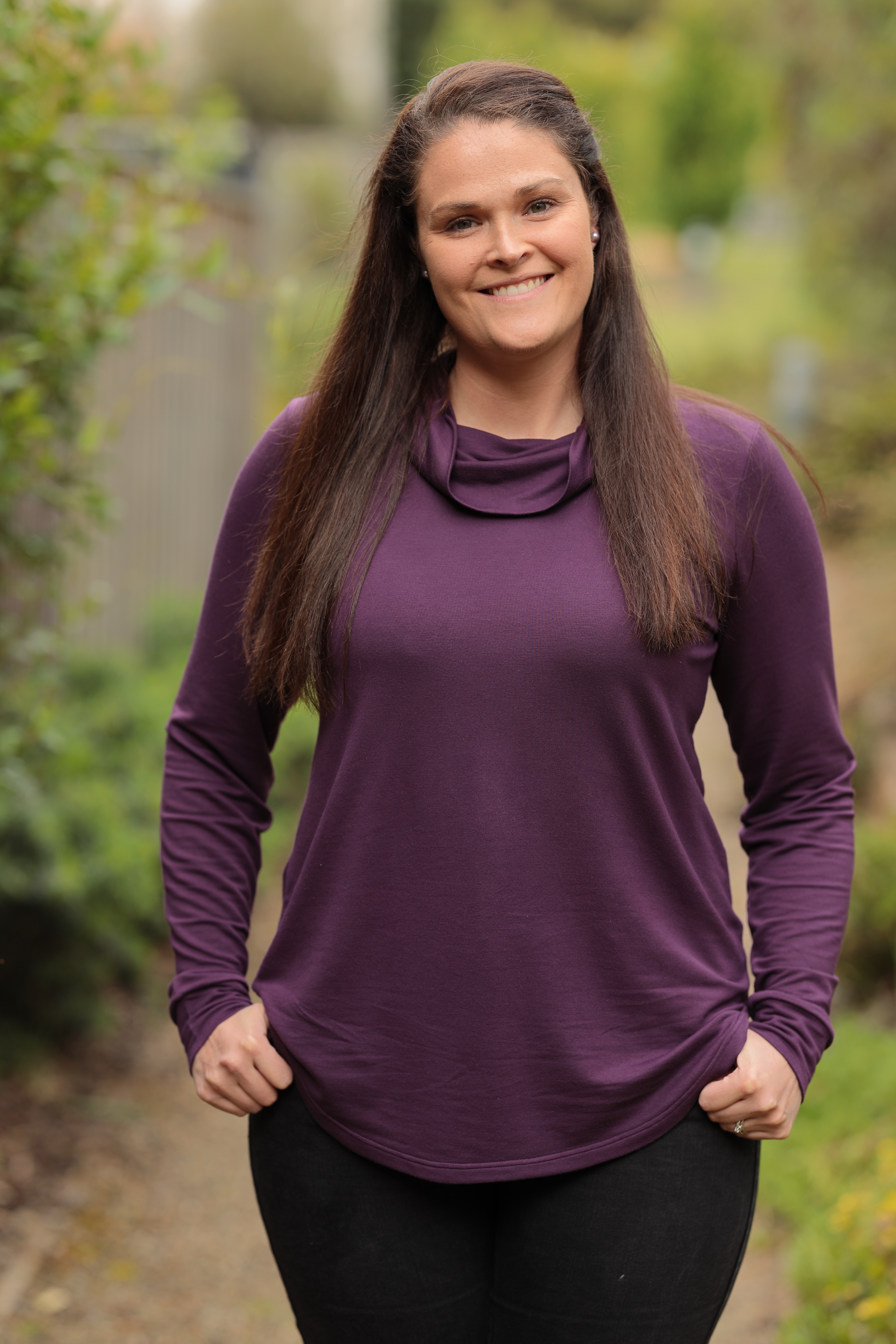 OEKO-TEX 100 Viscose Elastane Jersey

The Exhale Top and Dress is a relaxed style pattern that looks fabulous in knit fabrics with great drape. When Vivi first introduced Viscose Elastane Jersey I knew I had to try it. "Lines" Monochrome Viscose Jersey came to mind when I first saw the Exhale Top and Dress pattern. Viscose has a really nice drape and suits the personality of the Exhale. It's light, breathable and flowy. Here I have made the Midi Hi-Lo version with V neck.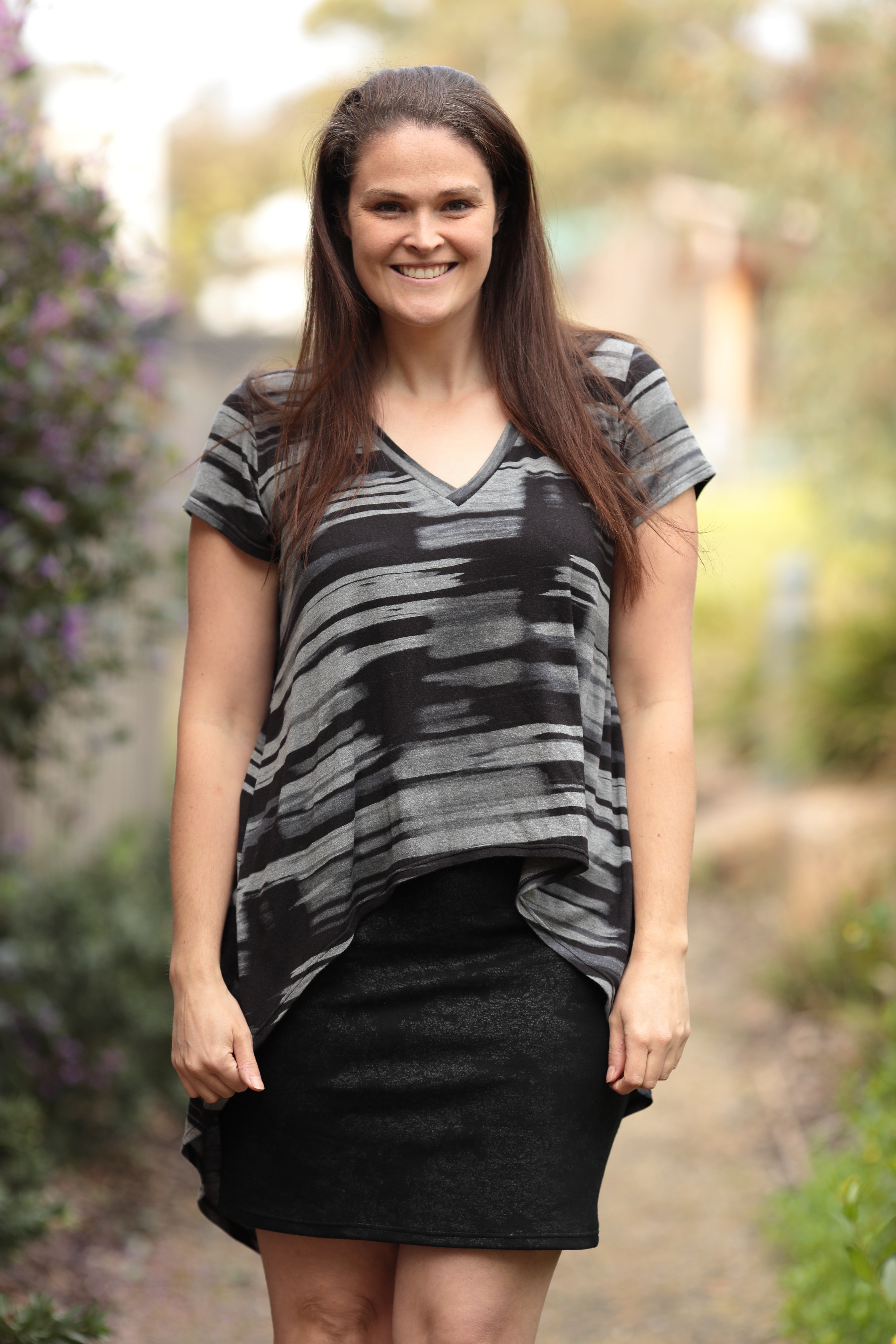 Using fabric from the same collection, I made a Hello Gorgeous in ½ sleeve option out of "Swirls" Monochrome Viscose Jersey. The drape of the Viscose creates a gorgeous flowy sleeve which feels really feminine.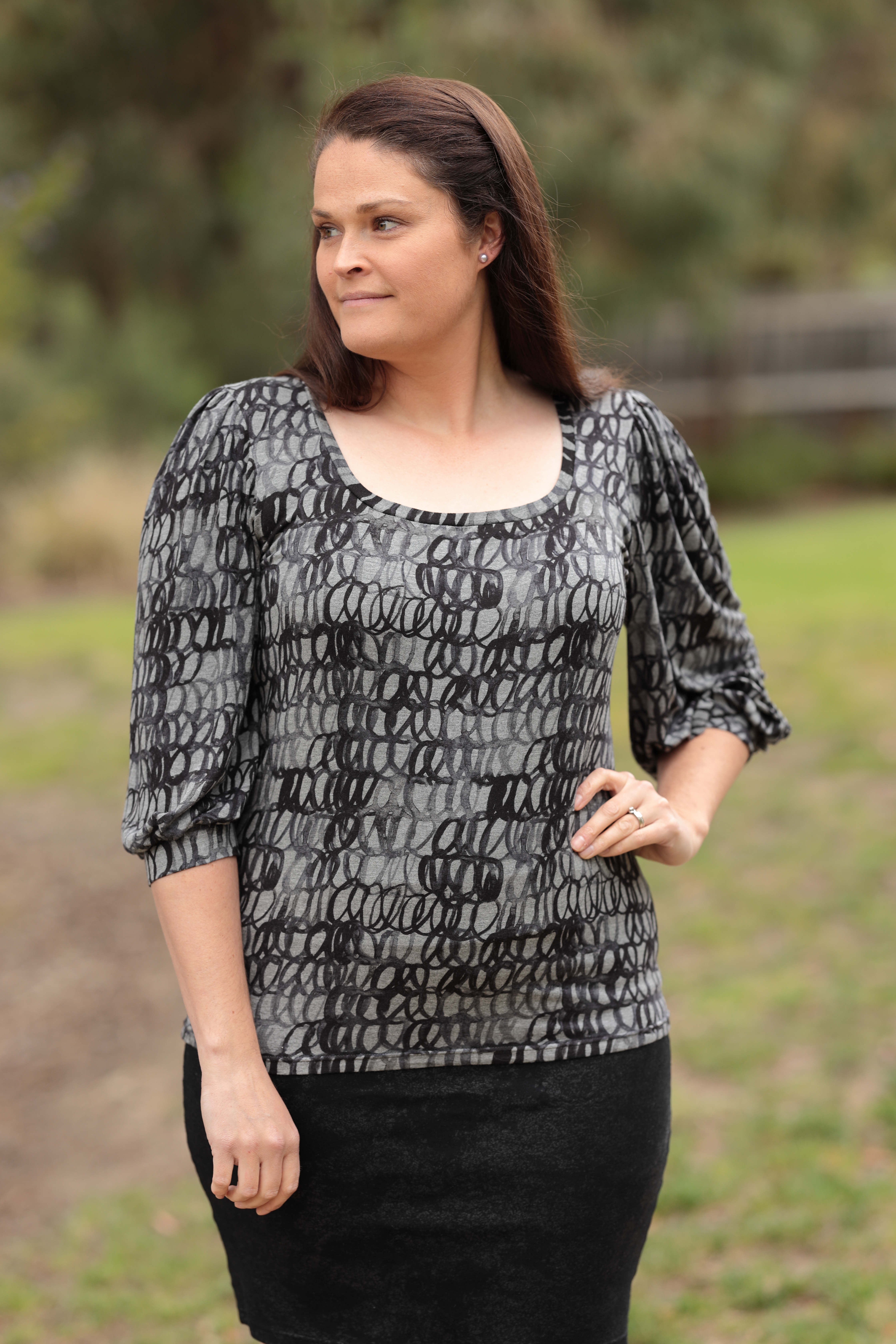 The Endless Summer Tee is another top which looks great in fabrics with drape and body. The drape in the White Viscose Elastane Jersey was perfect for a white top with little flutter sleeves. I was slightly concerned about the white being see through at first but it's fine! I am wearing a nude coloured bra which helps it to blend in.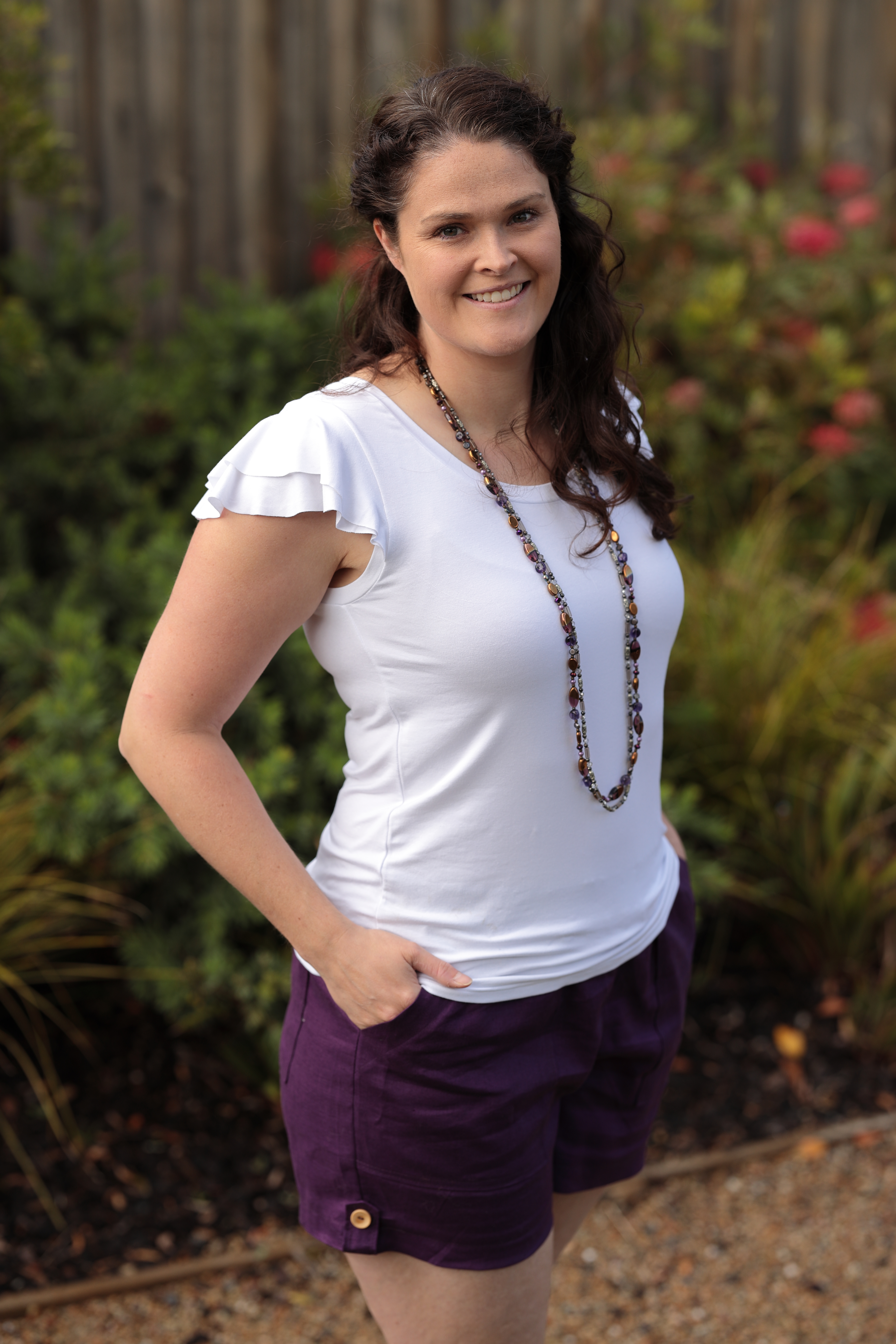 Organic Bamboo Elastane Jersey

Bamboo Jersey is probably my favourite base. I was an absolute convert as soon as I tried it (if you haven't already tried it, now is a great time!). Bamboo is also a great choice for the Exhale because it has amazing drape.
This time I made a sleeveless long top. The drape and the style of pattern is really flattering. It's a great base for warmer weather as bamboo is cool and breathable.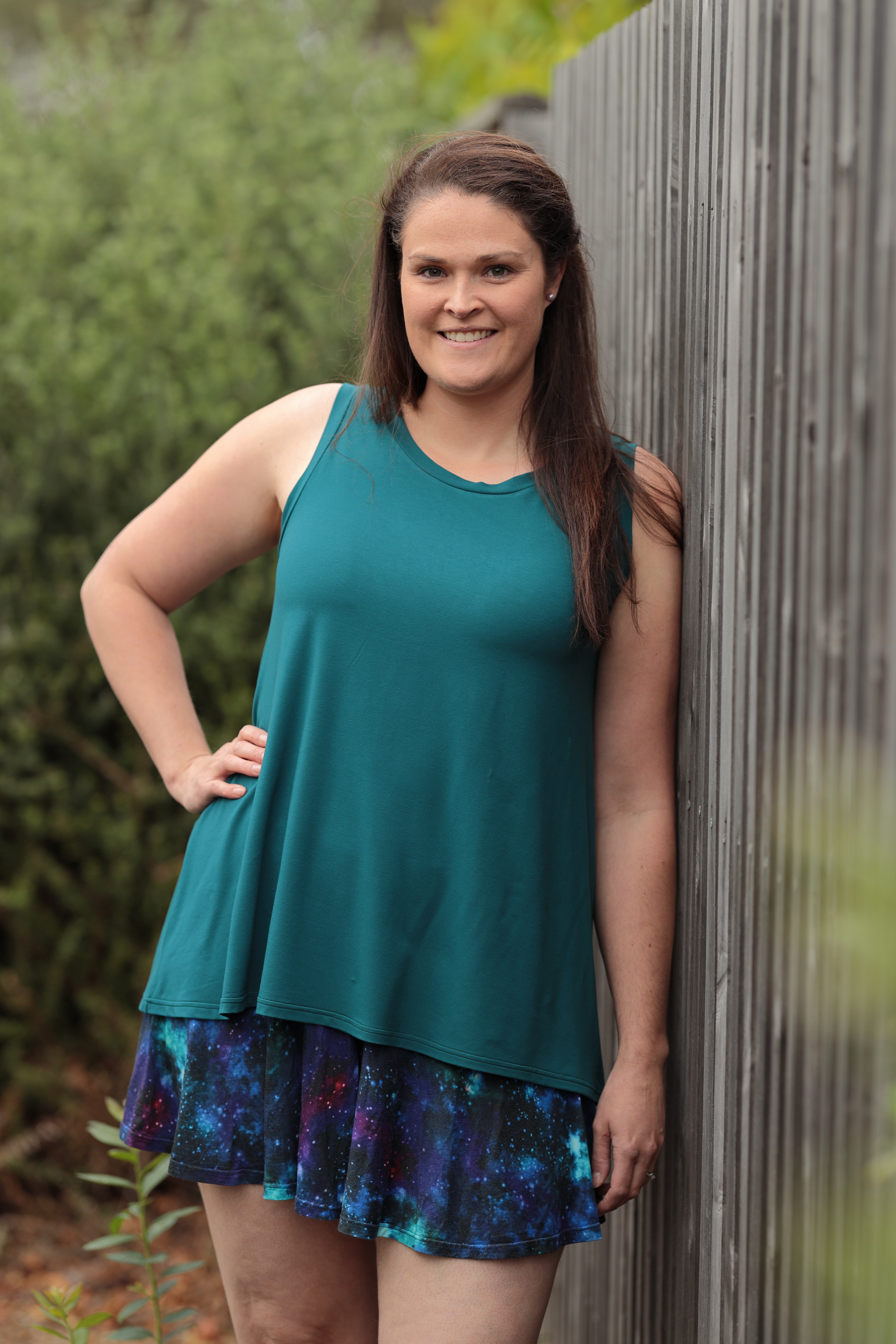 A little black top is a must have in every wardrobe. The Hello Gorgeous is a pattern that looks great with drapey fabrics and also fabrics with a bit more body. I love a cute little puff sleeve and thought it would also look good in bamboo.
This bamboo jersey has a really soft slinky feel without being difficult to sew.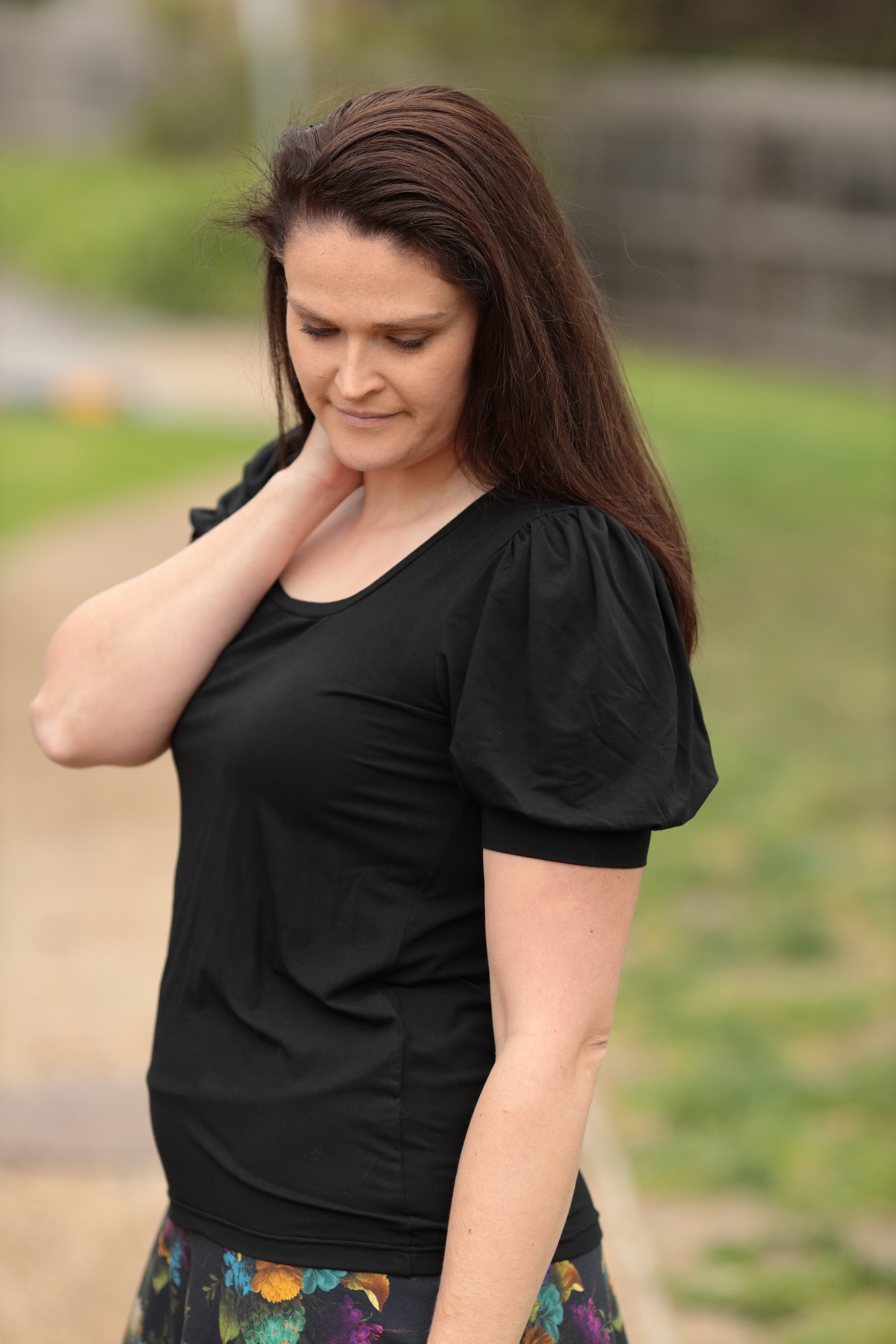 I'm a bit of a sucker for galaxy/watercolour prints and was super excited when I saw this one. I just had to get it! I have a few sleeveless Endless Summer Tee's in cotton jersey, this one is the cap sleeve. The Endless Summer Tee is a semi fitted top, and the cotton elastane jersey works well to hug your body without being stiff. Cotton elastane jersey is also a great fabric for a number of Pattern Emporium patterns such as the Heartlight Skirt and Keep It Simple Babe to name a couple.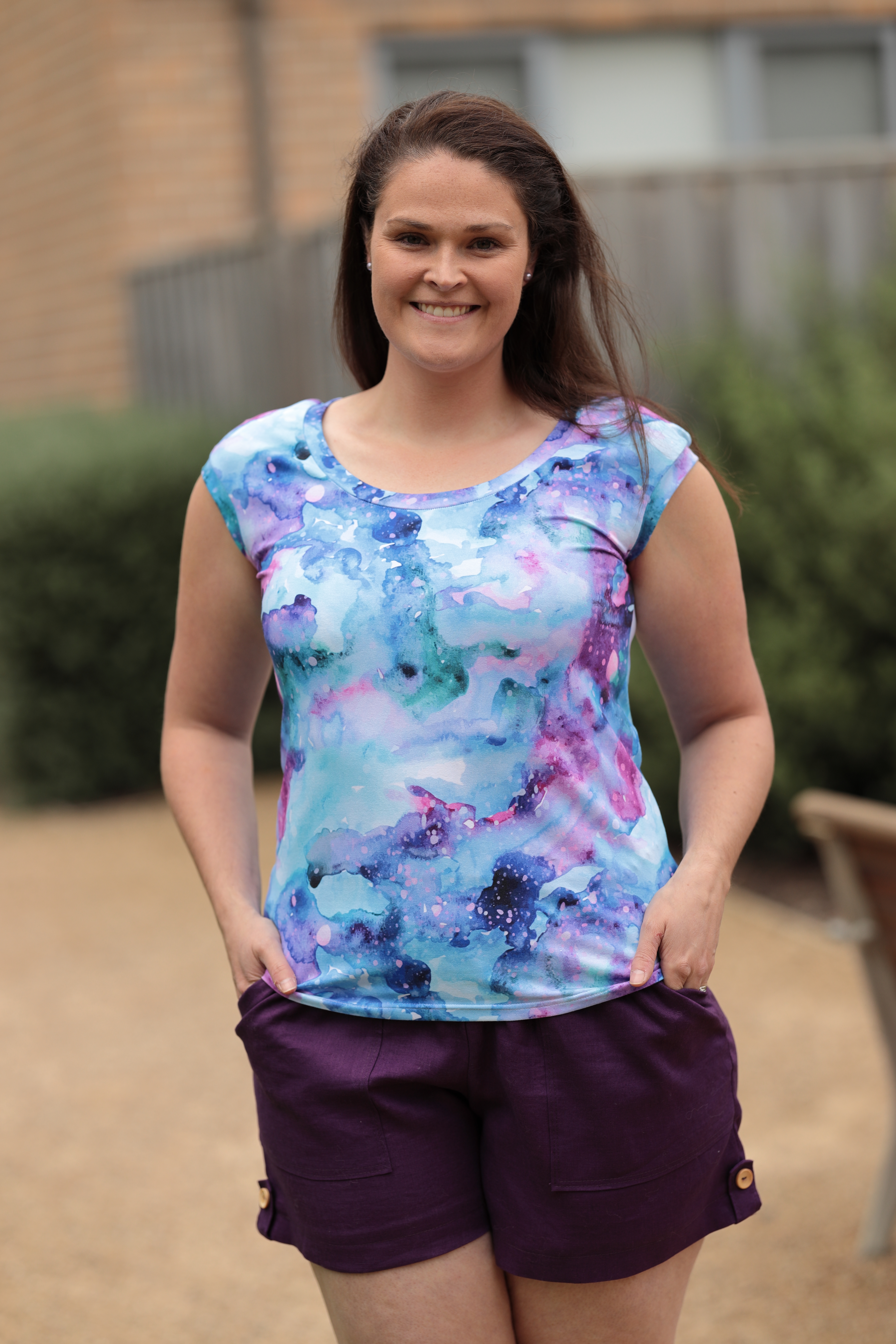 As you can see many of the knit fabric bases available at Wicked Fabrics compliments Pattern Emporium's knit patterns! Hopefully seeing an assortment of sewing garments made from different fabric bases has given you some inspiration towards your next sewing project.

Check out Pattern Emporium's sewing pattern here. (Just a head's up this is an affiliate link. If you purchase a pattern via my link you won't pay more for it but I will receive a small commission will helps me to continue doing what I love...which is sew!)