Posted by Wicked Fabrics - Vivi Richards on 19th Oct 2023
Welcome, fellow sewing enthusiasts!

We're thrilled to introduce you to our latest tools designed to elevate your sewing experience. We know that every second spent sewing is precious, and we're here to help you make the most of it.
At Wicked Fabrics, we're all about crafting a sustainable and creative sewing community. Our journey began with a passion for fabrics and a commitment to a sustainable future. We believe in slow, ethical fashion, and that includes making your sewing experience as seamless as possible. That's why we've curated a selection of digital products that are sure to help you on your sewing journey.
Wicked Fabrics Printable Sewing Project Planner
Are you ready to take your sewing projects to the next level? Say hello to the Wicked Fabrics Printable Sewing Project Planner! This ultimate tool is here to streamline your sewing experience from start to finish. Whether you're a seasoned pro or just starting out, this planner is designed with you in mind.
Our planner features:
Comprehensive Sections: We've got dedicated sections for everything you need, from materials to measurements. No more scattered notes and forgotten details. Keep everything in one place.
Detailed Material List: Never miss a single material again. Jot down all the fabrics, threads, buttons, and supplies required for your project.
Measurement Tracker: Accurate measurements are the key to a perfect fit. Our planner has a dedicated space for your measurements, making them easy to reference throughout your sewing process.
Adjustment Notes: Note down any changes you make as you sew, ensuring you can replicate them in the future or share them with others.
Convenient Shopping List: Stay organised and fully prepared for your project with a dedicated area for additional items you may need to purchase.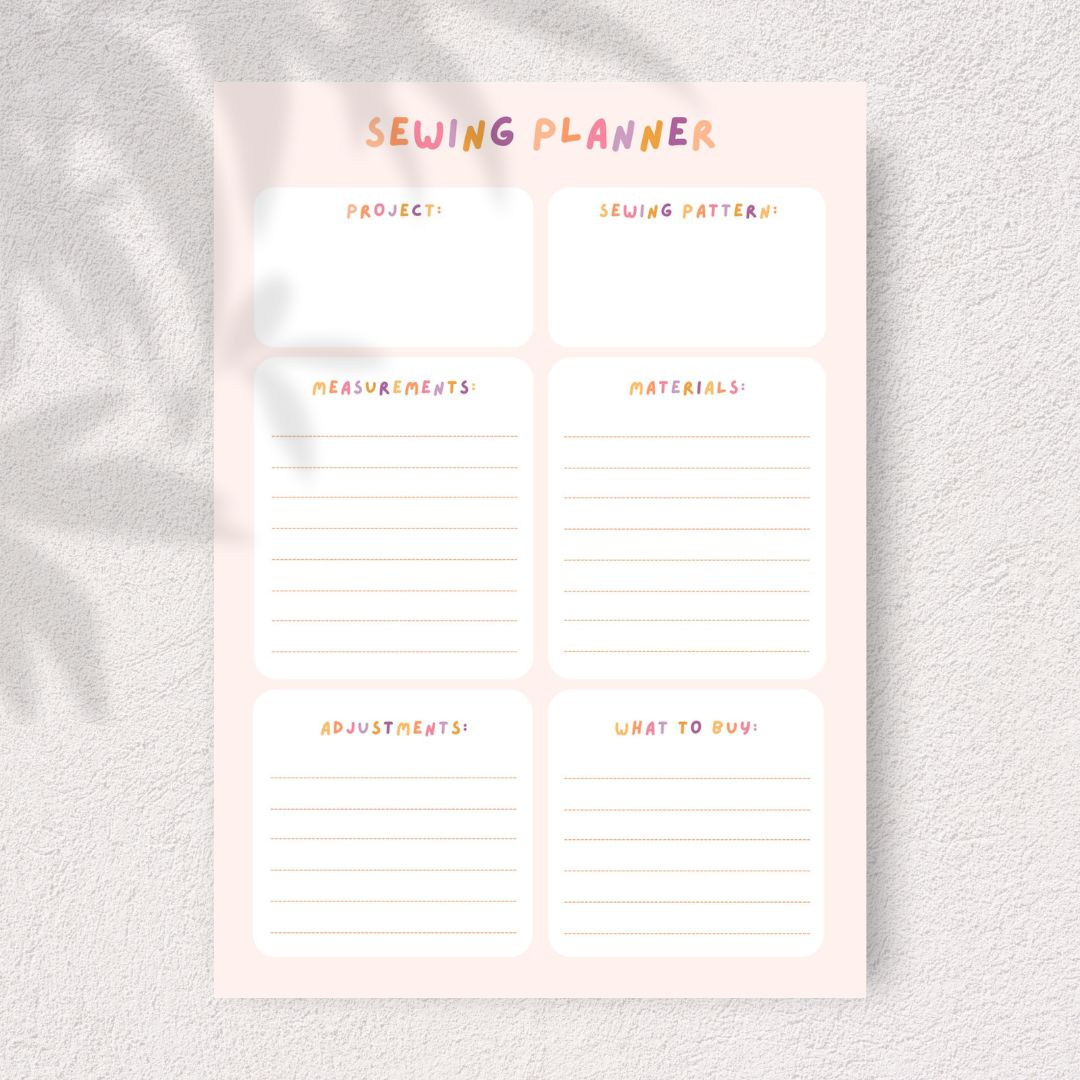 Wicked Fabrics Printable Fabric Information Tabs
Do you ever find yourself rummaging through your fabric stash, searching for that one perfect piece? It's time to put an end to that frustration with our Wicked Fabrics Printable Fabric Information Tabs. These tabs are here to keep your fabrics in order and at your fingertips.
Our fabric tabs offer:
Efficient Organisation: With four tabs per printed page, categorising and labeling your fabric bundles has never been easier. No more wasting time searching for the right fabric.
Instant Access: Access all the essential information about your fabric without rummaging through a folder. These tabs are all about convenience and saving you time during your creative process.
Room for Details: Your fabrics have unique stories, and our tabs offer ample space for you to write down all the relevant information, from origin to care instructions.
Wicked Fabrics Printable Fabric Swatch Organiser
Are you tired of losing yourself in piles of fabric, searching for the perfect piece? The Wicked Fabrics Printable Sewing Fabric Swatch Organiser is your solution. This innovative tool is designed to help you take control of your fabric stash and keep it organised in a fun and stylish way.
Our fabric swatch organiser offers:
Easy to Use: No complicated setup or software required! Simply choose your preferred paper, print the design, and start cataloguing your fabric collection. It's that easy.
Efficient Cataloguing: Say goodbye to the chaos of your fabric stash. Cut out your fabric swatches, attach them to the designated spaces, and create a visual catalog of your collection.
Portable and Versatile: Our organiser fits into a folder, making it easily portable. Take it with you to the fabric store or use it as a handy reference when planning your projects.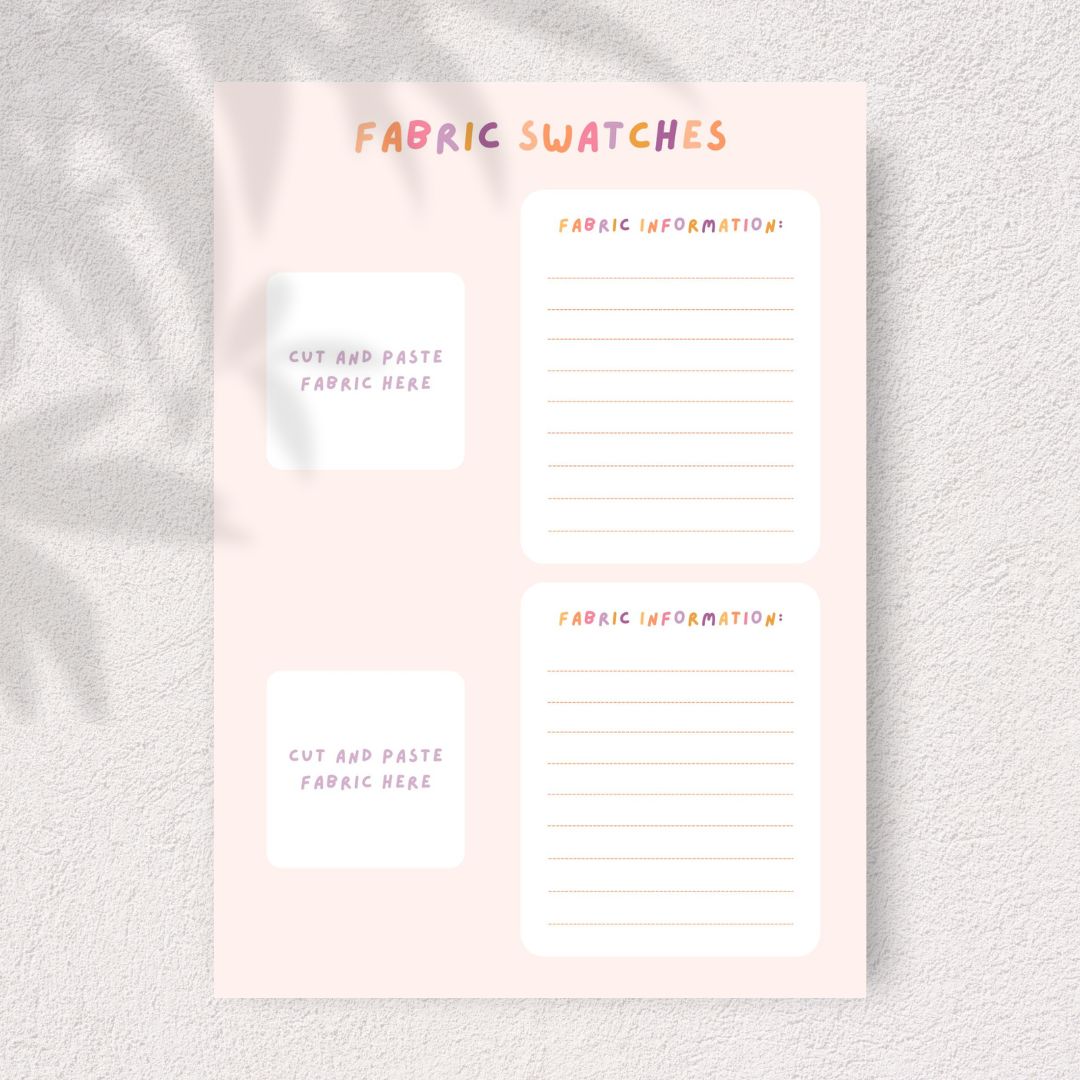 Remember, all these products are digital, so you can start using them right away. Tag us in your shots, share your creations, and join our growing community. We're excited to see how these tools transform your sewing journey!
Thank you for being a part of the Wicked Fabrics family. Your creativity and commitment to sustainability inspire us every day. Let's continue this sewing adventure together, one stitch at a time.
Ready to get started? Head to our shop and explore these amazing new tools. Stay creative, stay sustainable, and, most importantly, enjoy every moment of your sewing experience!